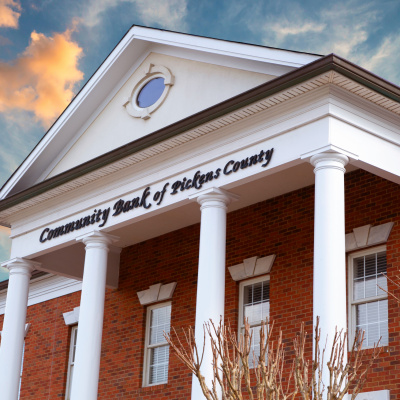 Our Story
After being the first bank to apply for a charter in the new millennium, Community Bank of Pickens County opened for business in 2000. The bank originally opened in a modular unit while a 10,000 square foot facility was being constructed at the corner of Highway 53 and Sammy McGhee Boulevard.
The original staff of thirteen has increased to over fifty to meet the needs of our growing customer base. In 2008, a second full service location was opened on Cove Road. Our latest expansion was in 2014 to house a growing Small Business Administration (SBA) loan center.
Community Bank of Pickens County is the only locally owned bank in our area. The Board of Directors and management have always been committed to providing the highest quality customer service possible and understand this is achieved through having the best staff.
Community Bank of Pickens County is consistently ranked in the top 10 in Georgia in SBA lending. We are very active in the local home construction market as well as providing commercial and consumer lending and seasonal lines of credit. We offer a full suite of deposit products for both business and individual customers. Even when you are not able to come to us, we offer immediate access though our online banking and other technologies. Regardless of the size of your banking needs, our goal is to provide you with the best customer service and products available.
We are also committed to being a good "corporate citizen" by contributing our time, money and banking expertise to assist local businesses, individuals, and charities. You will see our staff at local events throughout the community. We are your neighbors and we are always involved to make our home even better.
We are your local hometown bank.  Local people making local decisions.