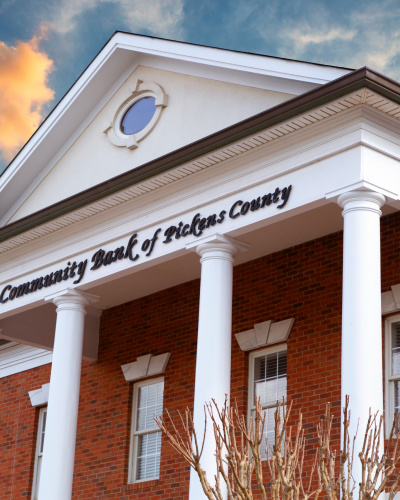 January 1, 2021 – New Year's Day
January 18, 2021 – Martin Luther King Jr. Day
February 15, 2021 – President's Day
May 31, 2021 – Memorial Day
July 5, 2021 – Independence Day Observed
September 6, 2021 – Labor Day
October 11, 2021 – Columbus Day
November 11, 2021 – Veteran's Day
November 25, 2021 – Thanksgiving Day
December 25, 2021 – Christmas Day
An important update for our valued customers
As we all are trying to adapt during this time of uncertainty surrounding the Coronavirus, Community Bank of Pickens County is taking precautionary steps to help protect our customers, employees and community.
Beginning Monday March 23, 2020 our drive-thru windows will continue to be open with regular business hours. Our lobbies will be temporarily closed until further notice:
For loans, new accounts, safe deposit boxes and large cash transactions you may schedule an appointment.
Please call (706) 253-9600 or contact your personal banker.
We would like to remind you that our ATMs are always available, and we strongly recommend that you use our remote digital banking services. We also encourage the use of electronic transactions whenever possible to reduce or eliminate the handling of money and paper checks that could possibly carry the virus.
Our mobile and online services include:
Online Banking to manage your accounts, transfer funds, and more.
Our free Mobile Banking App that can be downloaded to your smartphone.
Mobile Deposit from our Mobile App, to deposit paper checks from your smartphone.
Paying your bills with Online Bill Pay.
Using your Debit Card whenever possible to pay for items rather than using cash.
Merchant Deposit for depositing business checks from your office.
Our drive-through branches to promote social distancing.
Thank you for your patience and understanding during these unprecedented times. Feel free to call us at (706) 253-9600 or visit us online at www.cbopc.com  if you have any questions about enrolling and using our online and mobile banking services.
Thanks,
Ryan Keeter,
President / CEO
Follow these tips to help protect yourself and others from getting sick.
Wash hands with soap and water often for at least 20 seconds.
Avoid touching your eyes, nose, and mouth.
Cover your cough or sneeze with a tissue and then throw this tissue in the trash.
Stay home when you are sick.
Avoid close contact with people who are sick.
Clean and disinfect frequently touched objects and surfaces (don't forget cellphone, etc…)