Dear Friends,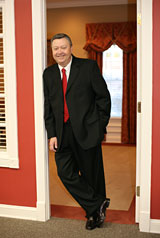 Thank you for taking your time to visit our website. I hope you enjoy our site and find it informative and useful.
At Community Bank of Pickens County, we try to make a difference through Hometown Commitment. Part of that commitment is to make your banking safe, convenient and, of course, financially beneficial.
Our two full service locations, ten ATM locations around the county, and our internet banking products make banking with Community Bank of Pickens County very convenient. Our dedicated staff works very hard to ensure you, our valued customer, receive a friendly, responsive banking experience with every transaction. Our directors, officers and staff believe in and are committed to making a difference in Pickens County through Hometown Commitment.
We appreciate the confidence you show by depositing your money here, and we will continue to work hard to deserve it. Please let us know if we can help you with any of your banking needs.
John Trammell
President & CEO